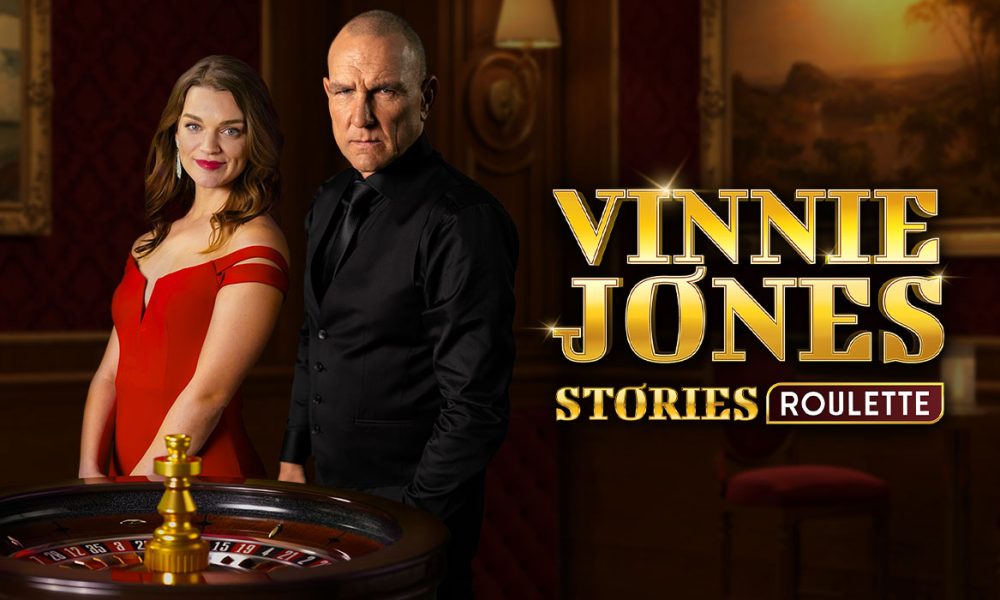 Today's Vinnie Jones Game Launch Redefines Online Roulette – European Gaming Industry News
Reading time:
2
minutes
Vinnie Jones Stories Roulette, the third installment in Real Dealer's series of games starring the legendary badass, blurs the lines between entertainment genres by combining elements of a no-holds-barred interview with classic European Roulette.
With each round of the game, the iconic badass answers a different fan question while his co-host, played by actress Rachael Bower (Twin Peaks), spins the wheel. The longer a player stays at the table, the more stories they'll hear from Vinnie about football, acting, life and more.
This style of hybrid entertainment is possible thanks to cinematic RNG, an innovative process created by Real Dealer in which recorded cinema-quality video is integrated into a game framework based on a random number generator. The approach closely mirrors that of Hollywood cinema, with professional actors, directors, and production crew delivering polished footage of dealerships and gameplay.
The many questions and answers required for Vinnie Jones Stories Roulette were conducted on a Los Angeles soundstage this spring as part of filming for the studio's larger Vinnie Jones series of games. Questions such as "How did things change for you after the Gazza incident?" and 'Where were you banned for life and why?' counted by the hundreds.
"That was, by far, the longest interview I've ever had," Vinnie joked at the time of production.
The game sees Vinnie answer questions in his famously direct way, delivering answers – often laced with profanity – that are sometimes far-fetched, at others honest and revealing. However, Shane Cotter, director of product at Real Dealer Studios, notes that the game's appeal will go far beyond die-hard fans.
"Besides all that he is, Vinnie is simply a consummate professional and a fantastic entertainer. And as you can imagine, he has endless crazy stories to tell, so there's a lot to see" , Cotter said.
Vinnie Jones Stories Roulette is part of a series that includes Vinnie Jones Roulette, launched in September, and Vinnie Jones Blackjack, launched in early November. More Vinnie Jones titles are slated for release in 2023.
Real Dealer titles are available exclusively from Games Global.