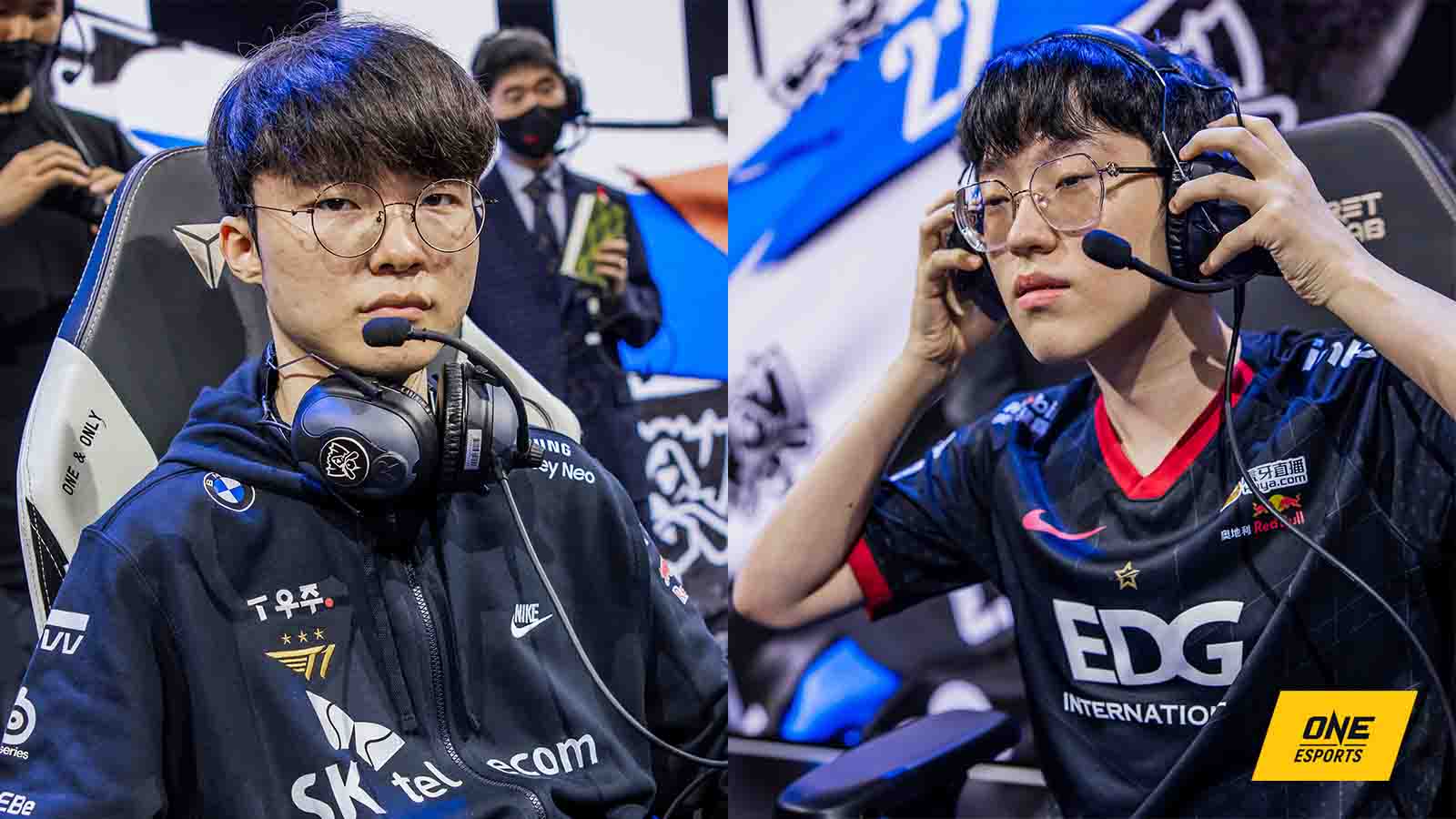 T1 and Edward Gaming advance to Worlds 2022 Quarter-Finals
World royalty gets away with it.
Reigning World Champions Edward Gaming and the LCK T1 behemoths reign supreme in the second round robin of the group stage at Worlds 2022.
Both teams dominated the last round of Group A matches. EDG knocked out both Cloud9 and Fnatic in the process, automatically locking T1 and themselves for the next knockout stage.
With T1 and EDG holding a 4-1 record, the final game between the two teams determined the first seed in the group.
---
---
T1 and Edward Gaming wrap up Group A with a stunning showdown
T1 put in an incredible performance against the defending champions. The star of the show was top laner Choi "Zeus" Woo-je on pirate Gangplank.
After 15 minutes, Zeus was able to solo kill Li "Flanders" Xuan-Jun's Maokai, earning him enough gold to complete his two main items, Trinity Force and The Collector.
Just three minutes later, the Gangplank player led the team into a river fight. As EDG attempted to lock down Lee "Faker" Sang-hyeok's Viktor, Zeus slowed Zhao "Jiejie" Li-Jie's Graves with a powder keg and shot him for the first kill.
Gaining the 4v5 man advantage, the rest of the LCK team rallied behind Zeus as he pursued the retreating opponents. The Gangplank player downed two other players for the triple kill and the ace.
After 27 minutes, Zeus and his team besieged the enemy base from the bot lane to destroy the Nexus and secure their fifth group stage victory.
---
---
With the victory, T1 advances to the knockout stage as the first seed of Group A. EDG qualifies as the second seed of the group.
Three-time world champion Faker continues to hold a respectable Worlds group stage record: in his seven appearances at Worlds, the mid laner has always left the group stage as the top seed.
The elimination phase of the Worlds will begin on October 20.
Follow ONE Esports on Facebook and Twitter for more LoL news, guides and highlights.
READ MORE: Gumayusi: 'Faker is the only one who helped me get to the pentakills'