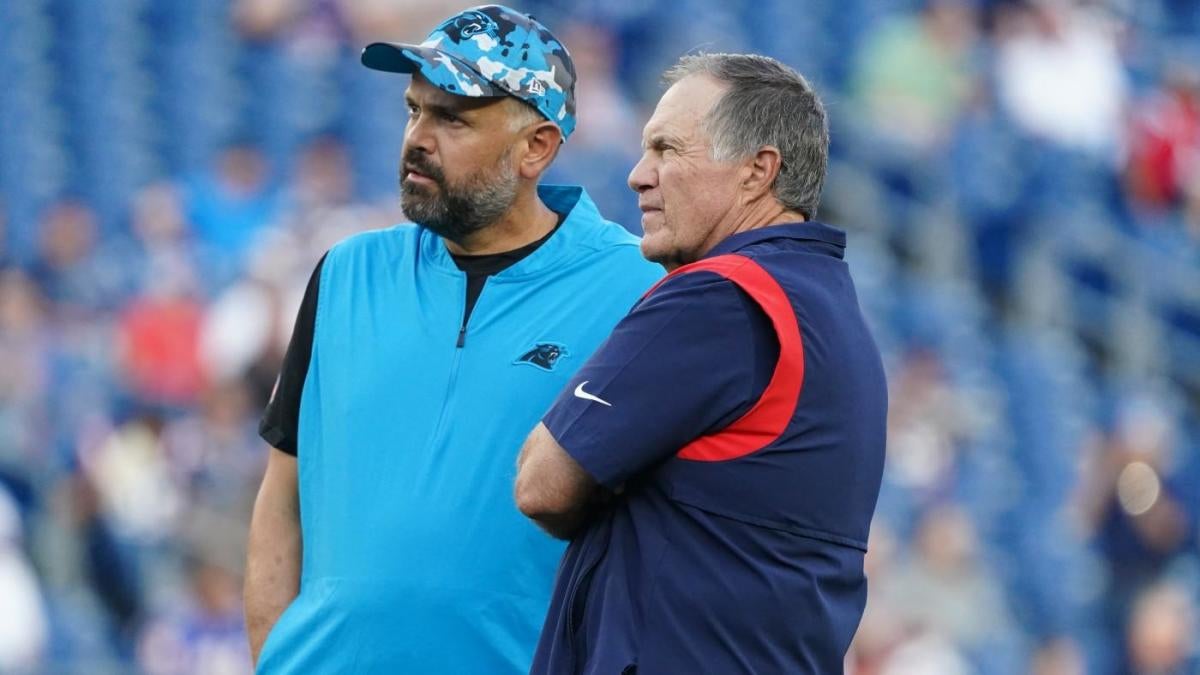 Patriots score vs. Panthers takeaway: Mac Jones, offense starts slow but shows signs of life with TD player
The New England Patriots are in the win column for the first time this preseason, as Bill Belichick and company pulled away from the Carolina Panthers with a 20-10 win at Gillette Stadium on Friday night . This game was the culmination of a busy week for these two teams, as they held two joint practices leading up to the exhibition. Although there were plenty of reps throughout the week, New England opted to play their first-time starters this summer, while Carolina held most of their key figures like quarterback- back Baker Mayfield.
Overall, it was a mixed bag for both clubs. There were some good things that popped up throughout the game, but there were also other situations that they will need to fix before the balls really fly in the regular season. Below, you'll find our top impressions of each team as this exhibition unfolded, the main turning point and, of course, the best play of the night.
Impressions of the Patriots
The Patriots fielded their starters for the first time this summer, and the focus has been on offense. Out of the gate, it looked like the device was out of sync. He went three times on his first two possessions and only managed three yards of total offense. Mac Jones looked a bit rusty and had a number of misses that were downright misfires, throwing one behind DeVante Parker and then over the head of Jakobi Meyers. Second-year fullback Rhamondre Stevenson – who is a candidate to claim James White's role in the passing game – was not head-turned and missed a dump from Jones amid those struggles.
However, the offense gained a foothold on the third possession of the night, walking on a 10-play, 81-yard touchdown. It was sparked by a 45-yard connection between Jones and Nelson Agholor who finished with 52 yards on two catches (three targets). In addition to Agholor impressing during this streak, Ty Montgomery continues to prove that he will be a versatile piece in this offense. He lined up in the backfield and recorded four carries, including a goal-line touchdown that resulted in a touchdown. This ability to work out of the backfield and work as a wide receiver will be fascinating to watch unfold.
On the defensive side of the ball, the starting seven were able to put the pressure on early on. Josh Uche and Deatrich Wise Jr. managed to save sacks and pushed the Panthers' quarterbacks a bit out of place. Linebacker Raekwon McMillan's speed was noticeable in this group and will be a welcome addition to a unit that desperately needs more speed.
In what has been a growing theme this summer, New England's defense has been quite opportunistic, creating multiple turnovers. Safety Joshuah Bledsoe – who makes a strong case for making the 53-man roster – was able to recover a forced fumble by rookie Marcus Jones. In the second half, cornerback Shaun Wade and safety Brenden Schooler also had picks on PJ Walker. DaMarcus Mitchell also stripped Walker in the end zone which Sam Roberts recovered for a touchdown.
While that's no surprise given how things went at camp, it's important to note that Matt Patricia was calling offensive plays throughout the night. He held the scoresheet while Jones and the first-team attack were on the pitch, and that continued throughout the game with Brian Hoyer and Bailey Zappe. This should make it clear that Patricia will be the offensive player in Week 1.
On the injury front, second-round rookie receiver Tyquan Thornton was ruled out after suffering a shoulder injury. Naturally, this will be worth watching in the days to come.
Please check the subscribe box to confirm that you wish to subscribe.
Thank you for your registration!

Keep an eye on your inbox.

Sorry!

An error occurred while processing your subscription.

panther prints
With Carolina holding a number of starters, there aren't as many key takeaways as there were on the New England sideline. That said, first-round rookie Ikem Ekwonu was one of the few Week 1 locks to start, and the NC State product struggled a bit. While he was making a play as a run blocker, pass protection was the main issue as he allowed two sacks. On a long third situation in the first half, Patriots linebacker Josh Uche was able to fly over Ekwonu to knock Walker down for the sack.
While Mayfield and Sam Darnold didn't play, there was a quarterback battle with Carolina between Walker and rookie Matt Corral. They're probably battling for that third and final spot on the 53-man quarterback roster, and the two haven't made too many "wow" plays. Walker finished his night completing eight of 15 passes for 107 yards and two interceptions while fumbling in the end zone, resulting in a touchdown. Corral was 9 of 15 for 58 yards.
Considering Corral was a third-round pick over Ole Miss last spring, it's really not pure "competition," but Walker hasn't done too much to endear himself to other potential clubs just in case he would look for a new destination. later this summer.
Elsewhere, Tae Hayes had some good times for the Panthers. The undrafted former free agent from Appalachia State managed to disrupt a deep shot by Patriots receiver Tre Nixon in the end zone. Hayes took advantage of a bad throw from Zappe, collected the ball and sent it back 50 yards for a touchdown to tie the score at 10 apiece.
After that play, the Panthers were flagged for unsportsmanlike conduct after the entire roster came off the sideline and celebrated in the end zone. Although a relatively minor situation, it highlights Matt Rhule's lack of control with his club, which showed in joint training, with multiple scuffles throughout the week.
Turning
The biggest swing of the game was Agholor's 45-yard catch in the first half. It breathed life into New England's offense and allowed the team to finally reach the end zone, but you'll read more about that below in our 'Playing the Game' section.
After the Panthers tied the game on a Zappe six pick, New England responded well. He immediately regained the lead after completing a seven-play field goal practice, then the defense slowed Carolina's offense, forcing back-to-back punts with just 25 yards of offense allowed. Finally, with less than two minutes left in the game, the defense was able to strip Walker in the end zone and recover it for a touchdown to pull away 10 points.
Game of the game
The biggest play of the first half came on a Jones bomb at Agholor early in the second quarter. The sophomore quarterback backed up on a first-and-10 play from the New England 42-yard line, stepped up and uncorked a 45-yard throw down the left sideline. The ball fell perfectly into Agholor's arms and immediately put the Patriots in the red zone, where they eventually capitalized on a Montgomery touchdown.
Coming into the camp, Agholor was a player many have raised as a potential trade candidate given his average season in 2021 and the depth of the position. However, he's put up a strong camp so far, and that's now showing on the pitch, so he's certainly making the case that he's a deep threat in this offense.
And after
From there, the Patriots will wrap up their preseason with a trip to Las Vegas, where they'll see old friend Josh McDaniels and his new team in the Raiders on Friday. Similar to what they did before this game, these clubs will have joint training next week. Meanwhile, the Panthers will return to Carolina for their only home preseason game of the summer. There they will host the Buffalo Bills on Friday night.