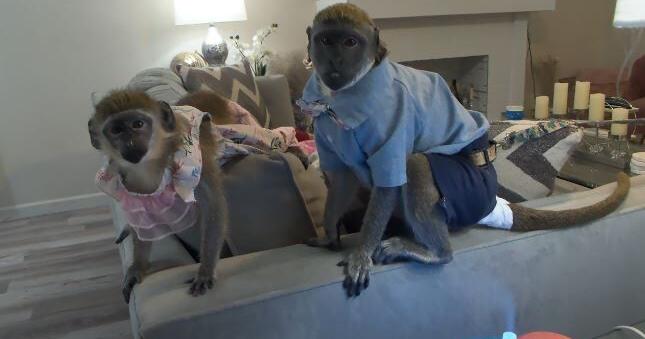 Alabama Original: Mojo and Maya the Monkeys | Features
Whether it's spending a few hours watching a movie, snacking on crackers, or just monkeying around, life is good if you're Mojo or Maya the monkey.
Huntsville newlyweds Carlos and Marla own the pair.
"They are like children, you have to be with them 24/7," Carlos said.
Carlos got Mojo in 2020, shortly after the pandemic started. He had never had a monkey and it was a fit.
"I actually bought Mojo from a breeder in Texas," Carlos said. "(It was) probably the most terrifying thing I've ever done in my life."
Once Mojo adjusted, it was time to go crazy and find him a sister. So Maya joined the crew.
Today, Mojo is 2 years old and Maya is 8 months old. They have a long way to go, with the right care, monkeys can live up to 30 years!
You might recognize the two primates from their now famous YouTube or TikTok channels.
The monkeys quickly gained internet fame, right here in northern Alabama.
"I'm just going to post to make people happy because that's what I want to do, that's my goal," Carlos said. "(To) strive to make people happy."
If you're thinking of buying or saving a monkey, these Huntsville monkey experts have a message for you.
"It's a lot of work," Carlos said. "Make sure you do your homework, study and if you want to take this home, just know that I'm giving you an example of what you're going to be able to see."
Monkey care can be exhausting, but this northern Alabama couple wants to take you on a ride to give you a taste of Mojo and Maya's life. Two monkeys whose life is truly 'monkey sees, monkey does'.
If you're already attached to Mojo or think he's cute, you can purchase a plush version of him HERE.
To see all of Luke's past "Alabama Originals", click HERE.
If you have a feature idea, email [email protected]